Agricultural ministers of V4 countries have expressed their disappointment in the lack of legislation to eliminate the presence of dual quality in foodstuffs at the Agrifish Council held in Brussels, 17 December. Minister István Nagy highlighted that treating Eastern European citizens as second-tier nationals by multinational food businesses is unacceptable.
The European Commission presented its package for modifying consumer protection laws in April 2018 that includes provisions to handle the phenomenon of dual quality. Just recently, the proposal for eliminating the dual quality have been removed during the negotiations in the consumer protection working party. Due to the agricultural aspects of the topic, the agricultural ministers of the Visegrad countries have asked the Romanian delegation, taking over the Presidency in the first half of 2019, to address this important issue and constantly inform the Agriculture and Fisheries Council on the progress of negotiations.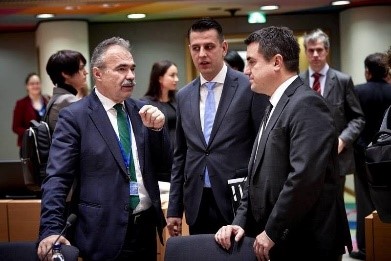 István Nagy reminded that the existence of the phenomenon has been proved by the testing results of the competent authorities in Central Europe in the last 2 years. Prime ministers of the V4 countries have condemned this phenomenon in their joint declaration in October 2017. President of the European Commission Jean-Claude Juncker have also highlighted in his State of the Union in 2018 speech that there can be no second-class citizens across Europe. The preliminary assessments of the European Commission's Joint Research Centre also support the presence of the phenomenon.